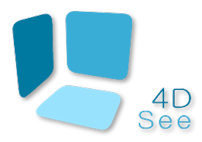 4DSee
is a completly new and different way to show any room or space.
2D
panoramas are often named virtual walks or 360 views. These allow you only to turn around as if in the center of the area, pivoting in a circle. But with in 3 dimension, every piece of the room is viewable from every angle and position! With 4DSee you can walk around in an exact 3D copy of the room, around the furnitures, or on an open field. Today, this is possible!
More and more people discover the unique potential in our new technology, join them today!
4DSee
can be used for:
Hotels
Showing your hotel with a realistic 3 dimension walk to your future guests is not only new and modern, but they will finally feel assured about the place they will make their booking.
Art galleries
Lack of exhibition space? You may present your collection online to attreact visitors or buyers. You can even show all those paintings and photos that are stored for a long time because of lack of exhibition space.
Ship builders
4DSee is the most realistic way to attract buyers, since they will be able to experience the real dimensions and proportions of your design.
Real estates
Spare huge amount of time taking customers to your property for sale, by letting your customers visit them online from their home or at your office without travelling all day.
Plazas
4DSee works as a kiosk too, where visitors are able to locate and watch the route in 3D walk to the shop or product they looking for.
Architecture
4DSee is a great tool for architects to record their finished building in 3D! Great for portfolios or selling the buildings. 4DSee is also able to present a whole square in 3D, streets or even an aqua park.
The possibilites are endless with 4DSee!
Copyright: 4DSee - Equilogy.Inc 2013
All Rights Reserved.